September National Teacher of the Month
"A teacher takes a hand, opens a mind and touches a heart." – Unknown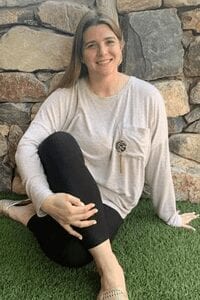 The process of choosing just one teacher each month is beyond difficult, but we are pleased to announce that our 2020 September National Teacher of the Month is Ms. Whitney of Little Sunshine's Playhouse and Preschool of Scottsdale.
We are so proud to nominate Ms. Whitney for our teacher of the month. Ms. Whitney has only been with Little Sunshine's for a few months, but it already feels like she's been a part of the family forever! In her time here, Ms. Whitney has already built strong relationships with not only the children but with her fellow teachers as well. She always comes in with a positive, go-getter attitude and truly brings sunshine with her everywhere she goes! Since she has started with LSP, we have had the pleasure of watching Ms. Whitney grow in both her confidence and her teaching style. She has a natural way with children, and they all just love her so much. Ms. Whitney was just recently promoted to an assistant preschool teacher role and she has already put so much love and devotion into her classroom. We can't wait to see how she thrives in her new role. We are all just so grateful for Ms. Whitney and the positivity that she brings with her wherever she goes!
Here is some fun information about her and what makes her such a standout!
What age group do you teach?
Preschool
What is the name of your classroom?
Where the Wild Things Are
What do you love most about the age group you teach?
The everyday discoveries the children make. Each day you get to see them blossom and grow it's exciting and inspiring to be a part of.
What is your favorite curriculum project you've ever done in your classroom?
The lifecycle of the chicken during farm month. We started with a coop and chicken eggs and each day the eggs changed and at the end of the week we had baby chicks. They loved it!
What do you enjoy most about working for LSP?
The support you get from your classroom leads and leadership. They are always there to bounce ideas off of but also will be your cheerleader when you want to try something in the classroom.
Who and/or what inspires you?
Ms. Czarnecki, my 2nd-grade teacher, and of course Ms. Frizzle, from The Magic School Bus. I like to channel their energy and bring that kind of spirit to the classroom every day.
What do you enjoy doing outside of work?
I love to travel and try new restaurants. I'm a big crafter and love a DIY home project!
Tell us one special fact about yourself that no one would expect.
I have dyslexia and because of that my learning style has always been a little different. However, I think it's what makes me a better teacher.
We also want to say congratulations to all the nominees who are listed below. Thank you for all your hard work and dedication!
Michelle G. – Alpharetta
Angel G. – Broomfield
Susan F. – Chesterfield
Itza M. – Colorado Springs
Natalie H. – Four Points
Jewel C. – Franklin
Susie R. – Gilbert – Val Vista
Cynthia C. – Gilbert – Higley
Kelsie C. – Granite Bay
Miwa W. – Lakeway
Cindy S. – Leawood
Sue T. – Littleton
Cassidy B. – O'Fallon
Tessa C. – Overland Park
Pationce B. – Ozark
Sydney S. – Rogers
Tenisha N. – Roswell
Bianca G. – San Antonio – Dominion
Kenneth D. – San Antonio – Stone Oak
Megan S. – Southlake
Patricia G. – Springfield I
Jamie W. – Springfield II
Hanna H. – Springfield III
Chef Hibba – University City
Beth D. – The Woodlands
Ashley F. – Willowbrook