February National Teacher of the Month
The teachers at our preschool programs across the county are the game changers. They are dedicated, passionate and truly know how to engage each of their students every day.
The process of choosing just one teacher each month is tough, but we are pleased to announce that our 2019 February Teacher of the Month is Kara Leeper of Little Sunshine's Playhouse of Springfield III! Here is some fun information about her and what makes her such a standout!
What age group do you teach?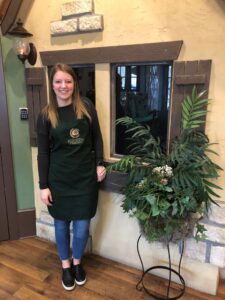 Toddlers
What do you love most about the age group you teach?
I love that they are always wanting to explore new things throughout our classroom. They have such creative imaginations and can make anything fun! I also love working alongside Ms. Shelby. She makes the classroom such a positive environment for me and the kiddos!
What is your favorite curriculum project you've ever done in your classroom?
We love getting messy! The kids love playing with shaving cream so we try to incorporate that into the curriculum as much as possible. It worked great for February's curriculum and the safety unit. We used it as smoke throughout the month in different scenarios. One day we used water and put it on the shaving cream and it would dissolve. We explained to our kids that water can put out a fire. They absolutely loved this activity!
What do you enjoy most about working for LSP?
I truly do love working alongside Ms. Shelby. It was so easy to adjust from being a floater to a teacher because she was able to teach me so well. Our toddlers 100% make my day. They are so sweet and have the best little personalities. They are always ready to learn about new things which makes it easy for us to teach them!
Who and/or what inspires you?
I have a friend who lives to serve people and I want to be just like her. I love watching her be selfless and build a relationship within meeting so she can find out if she can meet any of their needs.  I love being able to watch and learn from her on any occasion.
What do you enjoy doing outside of work?
I love spending my weekends with my nephew. He is my favorite little baby in the whole wide world! Other than that, I love going on a good hike, reading in coffee shops, and being with my friends.
Tell us one special fact about yourself that no one would expect.
I am 1 of 6 kids!
We also want to say congratulations to all the nominees who are listed below. Thank you for all your hard work and dedication!
Hong Rainwater – Alpharetta
Allison French – Springfield I
Emma Arnett – Springfield II
Kara Leeper – Springfield III
Wendy Flores – Colorado Springs
Clara Roche – Franklin
Ari Ferrin – Gilbert
Monica Tate – Granite Bay
Lauren Duke – Lakeway
Diane Fogarty – Leawood
Lauren Smith – Littleton
Jayleah Johnson – Overland Park
Karie Aldrich – Ozark
Zoe Hamilton – Rogers
Desireae Smith – San Antonio – Stone Oak
Karena Therrien – San Antonio – Dominion
Melanie Cruz – Scottsdale
Allie Zollinger – Southlake
Kaleigh Bates – The Woodlands
Rodsetta Williams – University City
Sophie May  – Willowbrook