February National Teacher of the Month
Educated individuals tend to be happier and healthier, and study after study has found that educated communities leads to a stronger economy. The fact is, teachers, make a difference.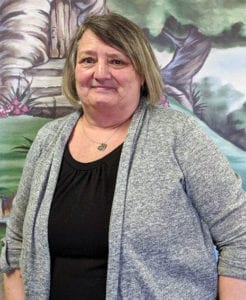 We are pleased to announce that our 2020 February National Teacher of the Month is Ms. June of Little Sunshine's Playhouse and Preschool of Springfield, MO at Chestnut.
Ms. June has been with Little Sunshine's for over 15 years! She has jumped in wherever she is needed, trained new teachers, supported her coworkers, built endless amounts of relationships with our families and has truly become a stronghold for Chestnut. Congratulations June! We are so thankful for you!
Here is some fun information about her and what makes her such a standout!
What age group do you teach?
Infants
What is the name of your classroom?
Rollie Pollie
What do you love most about the age group you teach?
I love all the hugs and kisses I receive from my students. I also really enjoy how they learn to become mobile.
What is your favorite curriculum project you've ever done in your classroom?
Mother's Day art projects have been an all-time favorite of mine.
What do you enjoy most about working for LSP?
I really love my students and my assistant teacher, Ellie.
Who and/or what inspires you?
Seeing a child's face when they learn something new is such a great feeling. Their face lights up and it is truly great watching them grow up every day. The children get so excited and being a part of that, is just an amazing feeling.
What do you enjoy doing outside of work?
Playing with my grandbabies.
Tell us one special fact about yourself that no one would expect.
In my younger days I used to ride motorcycles.
We also want to say congratulations to all the nominees who are listed below. Thank you for all your hard work and dedication!
Cortney H. – Alpharetta
Savannah M. – Broomfield
Arin K. – Chesterfield
Mike D. – Colorado Springs
Amanda B. – Franklin
Reya F. – Gilbert – Val Vista
Romii M. – Gilbert – Higley
Sara C. – Granite Bay
Stephanie J. – Lakeway
Brittany A. – Leawood
Natalie M. – Littleton
Stella G. – O'Fallon
Aerial K. – Overland Park
Amy P. – Ozark
Sophia H. – Rogers
Sara D. – San Antonio – Dominion
Denhi R. – San Antonio – Stone Oak
Tina E. – Scottsdale
Victoria S. – Southlake
Betty L. – Springfield I
Mikayla G. – Springfield II
Darrah B. – Springfield III
Kari H. – The Woodlands
Tatyania G. – University City