January National Teacher of the Month
The Teacher of the Month award is designed to recognize an employee that exemplifies our core values, which are compassion, humility, integrity, loyalty and discipline. This month we are pleased to announce that our 2021 January National Teacher of the Month is Ms. Nikayla of Little Sunshine's Playhouse and Preschool of Springfield, MO at Chestnut.
In talking about how Ms. Nikayla exemplifies LSP's core values, Program Director, Ms. Stephanie said, "Nikayla exhibits compassion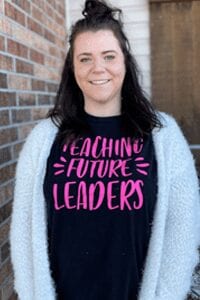 with her children. She is the only one in the school that is alone in a classroom and she has patience that most do not. She is humble in her position, always asking for recommendations on how she can improve. Nikayla has been loyal to LSP since she began in August 2020. She has the discipline to run her classroom on her own and still get everything plus some done."
Here is some fun information about her and what makes her such a standout!
What age group do you teach?
Twos
What is the name of your classroom?
Honeybee's
What do you love most about the age group you teach?
The drive they have to keep learning new things and their positive and caring attitudes.
What is your favorite curriculum project you've ever done in your classroom?
My favorite curriculum project that I have done in my classroom would be when we made firefighter badges for all the kids and hats. They all were ready to put out fires after!
What do you enjoy most about working for LSP?
What I enjoy most about LSP would be the care that goes into the holiday parties for the students. I also really enjoy the lunches we get to participate in with my coworkers and us using that time to bond.
What made you want to become an early childhood educator?
What made me want to become an early childhood educator was the negative experiences that I had with teachers/caregivers. The negative experiences made me turn away from education and not want to learn. I wanted to change the future children's experiences and help them love education. A positive/caring teacher can change a child's life.
Who and/or what inspires you?
My mother and an English teacher that I had in high school.
What do you enjoy doing outside of work?
What I enjoy doing outside of work is hanging with my pup, Delilah, and my boyfriend.
Tell us one special fact about yourself that no one would expect.
One special fact about myself that no one would expect would be that I love expressing myself through creativity!
We also want to say congratulations to all the nominees who are listed below. Thank you for all your hard work and dedication!
Nicole O. – Alpharetta
Summer L.  – Broomfield
Emily T. – Chesterfield
Sylvia K. – Colorado Springs
Beth Ann D. – Cumming
Hayley E. – Four Points
Rachel H. – Franklin
Jackie C. – Gilbert – Val Vista
Jenifer B. – Gilbert – Higley
Lindsy M. – Granite Bay
Bonnie K. – Lakeway
Jazmyn C. – Leawood
Chantel T. – Littleton
Melody B. – O'Fallon
Ashton G. – Overland Park
Courtney Y. – Ozark
Madison T. – Rogers
Abrielle A. – Roswell
Jessmar R. – San Antonio – Dominion
Biyonce C. – San Antonio – Stone Oak
Haley S. – Scottsdale
Tia J. – Southlake
Madison S. – Springfield II
Lauren L. – Springfield III
Laru C. – University City
Danielle D. – Willowbrook
Julie M. – The Woodlands