September 2021 National Teacher of the Month
The Teacher of the Month award is designed to recognize an employee that exemplifies our core values, which are compassion, humility, integrity, loyalty and discipline. This month we are pleased to announce that our 2021 September National Teacher of the Month is Ms. Elisa of Little Sunshine's Playhouse and Preschool of Chesterfield.
In talking about how Ms. Elisa exemplifies LSP's core values, Program Director, Ms. Sarah said, "Ms. Elisa is a founding team member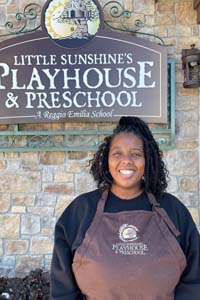 at LSP Chesterfield and continually impresses us with her work ethic, love for children, and serving her families. Ever since she started at our school, she's been a STANDOUT from day one. We continually receive emails from parents exclaiming their gratitude for Ms. Elisa. Although many families always speak about how wonderful she is, one family was so moved by her dedication to BOTH of their children, that they reached out to see what they could do for LSP and how to leave a positive review. Ms. Elisa is highly organized, wonderful with the kids, and a great team member."
Here is some fun information about her and what makes her such a standout!
What age group do you teach?
Toddlers
What is the name of your classroom?
Neverland
What do you love most about the age group you teach?
I love being able to watch them grow. I've had kids who started in my room not walking and then within a few weeks were fully walking without help. So, being able to be a part of that growing process means a lot to me.
What is your favorite curriculum project you've ever done in your classroom?
I would probably say August, which is All About Me! There was a day where the activity was finding your family picture underneath shaving cream. And when they would find it, they would get the biggest smiles on their faces.
What do you enjoy most about working for LSP?
The kids and the parents! I've made some great connections in the almost two years I've been here. It's also a plus having great coworkers.
What made you want to become an early childhood educator?
In high school, I took an early childhood education class and we got to work with toddlers. I always remembered that class because I've always loved taking care of kids!
Who and/or what inspires you?
Just seeing my kids happy. There are days we just go outside and play, but those days are great. Seeing them smile and laugh, makes me realize why I started doing this in the first place.
What do you enjoy doing outside of work?
I'm big on organizing and cleaning. I'm also a big fan of horror movies, so I could spend a whole day just having a scary movie marathon.
Tell us one special fact about yourself that no one would expect.
I've been through a lot in my life, and I've struggled with being happy. Now I am someone who thrives to make people laugh and smile.
We also want to say congratulations to all the nominees who are listed below. Thank you for all your hard work and dedication!
Jessica R. – Alpharetta
Cheyenne B. – Broomfield
Cheyenne F. – Colorado Springs
Michelle D. – Cumming
Alix B. – Four Points
Maggie O. – Franklin
Christina C. – Gilbert – Higley
Tracey W. – Granite Bay
Audrey S. – Lakeway
Allyson W. – Leawood
Rhonda V. – Littleton
Vicki L. – O'Fallon
Jessica C. – Ozark
Mara B. – Rogers
Briana S. – Roswell
Angelina M. – San Antonio – Dominion
Alexandra R. – San Antonio – Stone Oak
Nicole G. – Schaumburg
Tina E. – Scottsdale
Eryn S. – Southlake
Makenzie R. – Springfield I
Jamie W. – Springfield II
Domineque T. – Springfield III
Yolanda C. – University City
Maritza M. – Willowbrook
Angie "Jo" C. – The Woodlands