March 2018 LSP National Teacher of the Month
We are honored to work alongside such hardworking men and women who educate and love on our students day-in and day-out! The process of choosing just one passionate teacher each month is tough!  We're lucky to have so many to choose from for  our March teacher of the month. The following teachers were nominated by their program directors and assistant directors for this achievement:
Naomi Louis-Charles – Alpharetta
Miranda Warner – Springfield I
Lauren Ivey – Springfield II
Kaitlyn Johnson – Springfield III
Irene Preciado – Colorado Springs
Lynn Schessl – Gilbert
Terri Salmen – Granite Bay
Erica Carrisalez – Lakeway
Misha Lawson – Leawood
Chantel Trujillo – Littleton
Brooke Berger – Overland Park
Elese Edwards – Ozark
Maria Ruiz – Rogers
Freya Diaz-Lopez – San Antonio
Erin Adair – Southlake
Kayla Mckinzie – Scottsdale
Gina Castor – The Woodlands
Joya Rhodes – University City
Jeannine Stump – Willowbrook
Congratulations to all of these nominees! We are very thankful for all you do for the children in your care every day.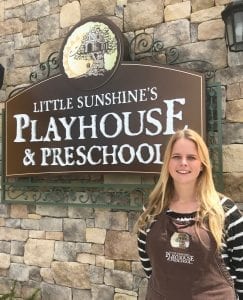 Our 2018 March LSP National Teacher of the Month is Ms. Tessa Marden from our Franklin, Tennessee location! Ms. Tessa is the lead teacher in the toddler classroom, Neverland.
When asked what she loves most about teaching toddlers she said, "I love their excitement for learning new things with their friends and of course their cuddles!" Her favorite curriculum-focused project with her students is exploring mountains, and she is very excited to explore the ocean with them this summer!
Here's what Franklin Owner and Program Director, Katherine Montgomery, had to say about Ms. Tessa,  "Tessa has demonstrated exceptional passion and skill in many areas including parent communication, toddler lesson planning and execution, classroom management,  teamwork. Ms. Tessa is a toddler lead teacher who was hired to improve the classroom that had been struggling since we opened. Within two weeks of her starting, Neverland became one of our strongest classrooms in the school!
Our parents consistently rave about her, and the way in which she interacts so kindly and positively with our team is amazing – she is always willing to help anywhere needed, and does so with a smile! We are so fortunate to have Ms. Tessa on our team, and we truly believe she is deserving of the National Teacher of the Month!"
When Tessa isn't working at LSP, she loves exploring the outdoors and spending time with friends and family. She also loves listening to music and enjoys playing the violin.
We are so proud to recognize Tessa as our March National Teacher of the Month!