May 2018 LSP National Teacher of the Month
We are honored to work alongside such hardworking men and women who educate and love on our students day-in and day-out! The process of choosing just one passionate teacher each month is tough, but we are lucky to have so many to choose from for recognition as our May teacher of the month. The following teachers were nominated by their program directors and assistant directors for this achievement:
Kalyn Dixon – Alpharetta
Ashley Hill – Springfield I
Lydia Hankins – Springfield II
Brandi Freeman – Springfield III
Missy Cowgill – Colorado Springs
Maura Gonzales – Franklin
Bre Walker – Gilbert
Mary Krebs – Granite Bay
Brittany Duke – Lakeway
Skylr Hopper – Littleton
Tori Bigham – Overland Park
Morgan Nichols – Ozark
Shelby Luker – Rogers
Jeannette Rodriguez – San Antonio
Lilly Tritch – Scottsdale
Zakiyyah Coble – Southlake
Nova Boutte – The Woodlands
Anastasia Whittington – University City
LaDonna Foster – Willowbrook
Congratulations to all of these nominees! We are very thankful for all you do for the children in your care every day.
Our 2018 May LSP National Teacher of the Month is Ms. Gabi Salmento from our Leawood, KS location! Ms. Gabi was an aide for two years and is now the assistant teacher in the Under the Sea classroom.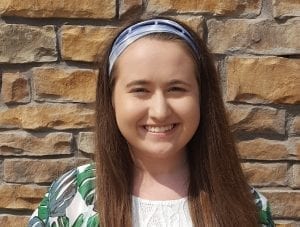 Ms. Gabi currently works full time at Little Sunshine's Playhouse and Preschool while also being a full time student. When asked what she enjoys most about working for LSP, Gabi responded "I cannot pick just one thing. To start, I absolutely love my kids. They brighten my day and make me love coming to work. Secondly, my coworkers are amazing encouragers. They help me get through each day. I love them. Lastly, my managers are so supportive and understanding. I could not ask for better managers".
Gabi explained to us that she loves how the toddlers in her class are little explorers. She enjoys seeing her kiddos develop every single day – from not talking much, to saying her name and their classmate's names nonstop! She also really loves watching their emotions show and develop as they learn new things in her class.
Here's what Gabi's director, Jodi, had to say about her "She is extremely reliable, punctual and very flexible. She is wonderful with the children and the parents adore her. Gabi is a great employee and we love having her as part of our team at LSP Leawood".
Outside of working at LSP, Gabi loves going out to dinner with friends and going shopping.
We are so proud to recognize Gabi as our May National Teacher of the Month!