June 2018 LSP National Teacher of the Month
We are honored to work alongside such hardworking men and women who educate and inspire our students day-in and day-out! The process of choosing just one outstanding teacher each month is tough, but we are lucky to have so many to choose. The following teachers were nominated by their program directors and assistant directors for the June Teacher of the Month:
Jasmine Muhammed – Alpharetta
Diane Zollman – Springfield I
Jacob Kleinsmith – Springfield II
Aracelis Bermudez – Springfield III
Maliana Lively – Colorado Springs
Carly Keogh – Franklin
Tiffanie Austin – Gilbert
Maria Sanchez – Granite Bay
Jemesia Hudson – Lakeway
Brittany Smart – Leawood
Faith Starr – Littleton
Rene Hunter – Overland Park
Stephanie Barrios – Ozark
Damaris Marquez – Rogers
Bridget Miller – San Antonio, Dominion
Erin Andino – Southlake
Nicole Pierro – The Woodlands
Nabila Errachidi – University City
Nicole Anderson – Willowbrook
Congratulations to all of these nominees! We are very thankful for all you do for the children in your care every day.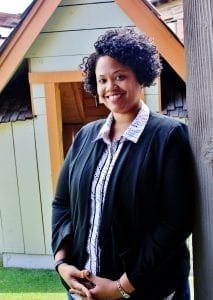 Our 2018 June LSP National Teacher of the Month is Mrs. Sara Goldsand from our Scottsdale, Arizona school! Ms. Sara spends the majority of her time in the preschool classroom, Where the Wild Things Are.
Ms. Sara began working at LSP as an assistant teacher and shortly after became the lead teacher in the preschool classroom. For the last few years, she has been a floater and has really enjoyed spending time in every classroom and with every age group. When asked what she loves most about her position, Ms. Sara replied, "This position affords me the time and opportunity to get to know every single child that walks through our doors. I've loved every position I have held but this has my heart. My days and weeks have the opportunity to vary greatly. Every day is a little different and I've had the privilege to work with the infants, transition kids, toddlers, preschool and pre-K on a daily basis".
Ms. Sara has a handful of people in her life that inspire her – her family, her nana, and authors like Louise Hay, Wayne Dyer, Marianne Williamson, and Jen Sincero. One philosophy her nana had that she taught Sara was to "light up when a child walks into a room" and that's exactly what Sara lives by every day.
Here's what Jenn, Ms. Sara's supervisor had to say about her, "Ms. Sara walks into the school every morning with a smile on her face, and is not only willing, but excited to be in whichever room she is needed in. Her approach to working with children focuses on instilling self-confidence while giving children the tools to be successful, independent and happy. In her time with Little Sunshine's Playhouse, Ms. Sara has built lasting relationships and touched the lives of every child and family she has met. Beyond that, she is a positive role model for all of the teachers and the leadership team alike. We are so thankful to have Ms. Sara as a part of our family here at Little Sunshine's Playhouse, and can think of no one more deserving of this award."
Outside of the classroom, Ms. Sara loves to spend time with her wife and family and enjoys reading, writing and cooking. She also loves watching movies and going to concerts.
We are so proud to recognize Ms. Sara as our June National Teacher of the Month!