February National Teacher of the Month
The Teacher of the Month award is designed to recognize an employee that exemplifies our core values, which are compassion, humility, integrity, loyalty and discipline. This month we are pleased to announce that our 2021 February National Teacher of the Month is Ms. Courtney of Little Sunshine's Playhouse and Preschool of Gilbert, AZ at Val Vista.
In talking about how Ms. Courtney exemplifies LSP's core values, Program Director, Ms. Janae said, "Ms. Courtney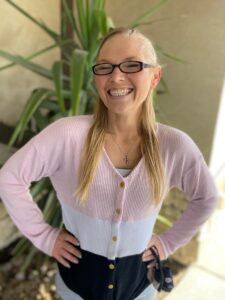 shows compassion each day to her toddlers by encouraging them, helping them and loving them. She shows compassion to her teammates by being thoughtful and kind. She had all staff sign a grievance card for me when I lost my grandmother, she creates birthday cards/gifts for her kids in her own time. Ms. Courtney is constantly holding herself to the highest standard. She meets deadlines, she's honest, and communicates well."
Here is some fun information about her and what makes her such a standout!
What age group do you teach?
Toddlers
What is the name of your classroom?
Land of Oz
What do you love most about the age group you teach?
My students, they are just learning new things and get a sparkle in the eye when they understand it.
What is your favorite curriculum project you've ever done in your classroom?
Well, since I just started not that long ago, I'm excited most about space/solar systems.
What do you enjoy most about working for LSP?
The loving environment. Really, I've never felt this much love and compassion towards others.
What made you want to become an early childhood educator?
I have always loved to help and show kids new ways of life and being happy.
Who and/or what inspires you?
I would say my past since it's not a great one, I always wanted to help those around me more than myself.
What do you enjoy doing outside of work?
Family time, reading, I even work outside of work time. My kids get involved in it all as well.
Tell us one special fact about yourself that no one would expect.
I can sing.
We also want to say congratulations to all the nominees who are listed below. Thank you for all your hard work and dedication!
Nichole M. – Alpharetta
Jovaughna A. – Broomfield
Abigail V. – Chesterfield
Ajah Z. – Colorado Springs
Jordan H. – Cumming
Cheryl R. – Four Points
River M. – Franklin
Allie Z. – Gilbert – Higley
Lindsy G. – Granite Bay
Mery U. – Lakeway
Chloe P.  – Leawood
Ryleigh M. – Littleton
Dayna W. – O'Fallon
Mikayla B. – Ozark
Elizabeth S. – Rogers
Taylor P. – Roswell
Kasandra N.  – San Antonio – Dominion
Kimberly M. – San Antonio – Stone Oak
Tina E. – Scottsdale
Kathy T. – Southlake
Taylor P. – Springfield I
Hannah M. – Springfield II
Daesha S. – Springfield III
Lydia E. – University City
Gillian K. – Willowbrook
Laurel L. – The Woodlands