June 2021 National Teacher of the Month
The Teacher of the Month award is designed to recognize an employee that exemplifies our core values, which are compassion, humility, integrity, loyalty and discipline. This month we are pleased to announce that our 2021 June National Teacher of the Month is Ms. Mikayla of Little Sunshine's Playhouse and Preschool of Leawood.
In talking about how Ms. Mikayla exemplifies LSP's core values, Program Director, Ms. Jodi said, "Mikayla has been with us since April.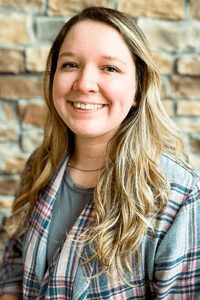 Mikayla joined us from Little Sunshine's Playhouse and Preschool of Springfield at Claremont. We absolutely love having Mikayla with us. She has helped us in our Infant classrooms and now has been helping in our Pre-K classroom. She is dependable, flexible, punctual and very dedicated to LSP. The children love her and the staff and management couldn't be happier that she has joined our team!"
Here is some fun information about her and what makes her such a standout!
What age group do you teach?
Pre-Kindergarten
What is the name of your classroom?
Neverland
What do you love most about the age group you teach?
Each day is a new adventure! They always have a new exciting story, an interesting question, or a fantastic idea! There is never a dull moment, and they never fail to make you smile. Coming into the classroom each day does not feel like work, I look forward to seeing my kids each morning.
What is your favorite curriculum project you've ever done in your classroom?
My favorite curriculum project we have done to date is the branches of our cherry blossom tree. We talk about the history of the Cherry Blossom Festival in Washington DC, and each child gets to make their own segment of a branch. We take each segment and assemble it on the board to create a beautiful Cherry Blossom tree. They have so much fun creating their own segment and are always so excited to see the finished product.
What do you enjoy most about working for LSP?
Little Sunshine's is so much more than a Preschool, it is a family! Whether it be your co-workers building you up, your directors always being there for you, or your families and students constantly giving you a reason to smile, Little Sunshine's will always be home. I have never met a team more dedicated, caring, or hard-working than the teachers employed by Little Sunshine's Playhouse and Preschool.
What made you want to become an early childhood educator?
I have always had a passion for working with children from an early age, I knew this was what I wanted to do. As I progressed in my education, I learned more about all the different stages of development that happen when a child is under the age of five. This is the most vital period of development in a child's life, and I knew that I wanted to help make a difference. Each child is unique and different in their own special way and helping them have the best experience in education early on is something that I strive each day to achieve.
Who and/or what inspires you?
The children most definitely have the most influential impact on me. I watch them learn to write their names, research areas that interest them, make friends with strangers, and extend kindness and grace to one another without a question. Each day they push me to be not only a better educator but also a better individual.
What do you enjoy doing outside of work?
Outside of work I spend time with my family, my husband, Tanner, and I have a whole pack of rescue dogs (only three but at times it feels like much more); I love reading, spending time outdoors and surrounding myself with my friends and family. I am constantly looking for projects to work on and I love to stay busy.
Tell us one special fact about yourself that no one would expect.
I am a history buff. I absolutely love American History; I think that going to a museum I have never been to is my idea of an amazing vacation!
We also want to say congratulations to all the nominees who are listed below. Thank you for all your hard work and dedication!
Chef Nicole – Alpharetta
Lori W. – Broomfield
Sara L. – Chesterfield
Aliyah V. – Colorado Springs
Anusha P. – Cumming
Cristal C. – Four Points
Suzanne B. – Franklin
Erica N. – Gilbert – Val Vista
LeeAnne L. – Gilbert – Higley
Cameron A. – Granite Bay
Grace C. – Lakeway
Nora B. – Littleton
Stephanie Clark – O'Fallon
Nazin A. – Overland Park
Leanna H. – Ozark
Sandy Z. – Rogers
Corinne P. – Roswell
Jessica C. – San Antonio – Dominion
Karyna P. – San Antonio – Stone Oak
Kristin V. – Schaumburg
Zoey R. – Scottsdale
Taylor H. – Southlake
Katelyn F. – Springfield I
Christina L. – Springfield II
Olivia B. – Springfield III
Katie F. – University City
Antonieta (Chiqui) M. – Willowbrook
Beth B. – The Woodlands