May 2021 National Teacher of the Month
The Teacher of the Month award is designed to recognize an employee that exemplifies our core values, which are compassion, humility, integrity, loyalty and discipline. This month we are pleased to announce that our 2021 May National Teacher of the Month is Ms. Lourdes of Little Sunshine's Playhouse and Preschool of O'Fallon.
In talking about how Ms. Lourdes exemplifies LSP's core values, Program Director, Ms. Jennifer said, "Ms. Lourdes is a founding team member at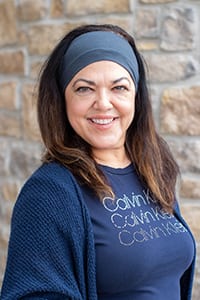 O'Fallon and has always shined so brightly! She was an outstanding assistant teacher and has done an amazing job as the lead teacher in the infant classroom. She keeps everyone on their schedule, plans fantastic lesson plans for her babies, and keeps the classroom so clean. Everyone loves working with Lourdes and the parents are so impressed with her level of care and attention."
Here is some fun information about her and what makes her such a standout!
What age group do you teach?
Infants
What is the name of your classroom?
Sunnybrook Farms
What do you love most about the age group you teach?
I love to provide a nurturing and safe environment for my infants and help them to develop and reach their milestones. I also enjoy having the time to cuddle with them. I love being able to see their cute smiles every time they enjoy their day through playtime or during the incorporation of an activity.
What is your favorite curriculum project you've ever done in your classroom?
One of my favorite projects was during the creepy crawlies theme. Every infant made various insects that were exhibited on our monthly bulletin board. Another one that the infants enjoyed was the free painting activity using bugs dipped in paint.
What do you enjoy most about working for LSP?
First, the children and the wonderful families. Also, the fabulous leadership team that supports and encourages me to do and be the best. LSP for me is like home.
What made you want to become an early childhood educator?
I decided to be an early childhood educator because I want to make a difference in young lives and influence future generations. Also, I want to ensure that children get off to a good start in their lives and in their learning.
Who and/or what inspires you?
My love for children draws me to teaching. I also enjoy learning new things every day which makes me passionate about teaching and caring.
What do you enjoy doing outside of work?
I enjoy traveling, cooking, watching movies, listening to music, walking and be with my family and friends.
Tell us one special fact about yourself that no one would expect.
Before working as a teacher, I was a Vice President of a Telecommunications company.
We also want to say congratulations to all the nominees who are listed below. Thank you for all your hard work and dedication!
Danyale G. – Alpharetta
Alexis M. – Broomfield
Mariah W. – Chesterfield
Paige L. – Colorado Springs
Seema F. – Cumming
Cheryl B. – Four Points
Mark R. – Franklin
Dannielle G. – Gilbert – Val Vista
Brooklyn D. – Gilbert – Higley
Julie V. – Granite Bay
Katiya R. – Lakeway
Myriam G. – Leawood
Katelyn P. – Littleton
Nazanin A. – Overland Park
Kaylee P. – Ozark
Tiffany W. – Rogers
Sarah T. – Roswell
Dominique R. – San Antonio – Dominion
Michaela B. – San Antonio – Stone Oak
Dana E. – Schaumburg
Whitney M. – Scottsdale
Danny V. – Southlake
Alyson B. – Springfield I
Elizabeth C. – Springfield II
Megan S. – Springfield III
Tiffany G. – University City
Jennifer S. – Willowbrook
Gina C. – The Woodlands