July 2021 National Teacher of the Month
The Teacher of the Month award is designed to recognize an employee that exemplifies our core values, which are compassion, humility, integrity, loyalty and discipline. This month we are pleased to announce that our 2021 July National Teacher of the Month is Ms. Isela of Little Sunshine's Playhouse and Preschool of Scottsdale.
In talking about how Ms. Isela exemplifies LSP's core values, Program Director, Ms. Jenn said, "This month, the decision was an easy one. Ms. Isela has so many wonderful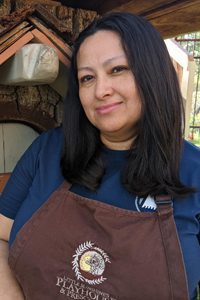 qualities that make her such an important part of our team. First and foremost, she loves her babies and works every day with the consideration of their needs at the front of everything she does. It is always so fun to see her kids' faces light up when she walks into the classroom, and it is so clear how much they love her."
Here is some fun information about her and what makes her such a standout!
What age group do you teach?
Toddlers
What is the name of your classroom?
Land of Oz
What do you love most about the age group you teach?
I love watching them grow from babies into toddlers. I love that their minds are so curious and that everything that they do is learning. I love to be a part of that learning, and to be a part of helping them reach those milestones. When I see my babies start to walk or talk, I feel such joy to see them grow and to know that I have helped to teach them those skills.
What is your favorite curriculum project you've ever done in your classroom?
I absolutely loved teaching our kids about dinosaurs. Since I was little, I have always been interested in dinosaurs, and I thought it was so fun to come up with so many different activities to help them learn all about them, especially all the unique art projects we did!
What do you enjoy most about working for LSP?
Every morning when I walk into my classroom and see the smiles on my baby's faces and see how happy they are to see me, it is my favorite thing. We are here for our kids, and to see them happy and safe is the most important thing to me. It's very important to me that this is not just a job – our babies deserve unconditional love, and I am so happy to be able to come in every day and give that to them.
What made you want to become an early childhood educator?
More than anything, my son. When I became a mother, I decided I wanted to be a preschool teacher so I could be close to him while I worked. I soon realized that being in early childhood is my destiny, and that no matter how difficult it can be some days, this is what I'm supposed to do. And I've been doing it for 16 years now! It's important to me to be there for the children and to make them feel safe and happy while they are not with their parents.
Who and/or what inspires you?
My mother is my inspiration. For all my life, she is my inspiration.
What do you enjoy doing outside of work?
I love to read. I can spend hours and hours in a library or a bookstore. Spending time with my son and my family is also very important to me. I don't travel much, but I would love to. Traveling more is a dream of mine. I especially love being near the ocean.
Tell us one special fact about yourself that no one would expect.
I have learned how to be a strong person, and I am good at being that encouragement to other people, too. When people are struggling or feeling down, I want to give them hope and strength.
We also want to say congratulations to all the nominees who are listed below. Thank you for all your hard work and dedication!
Tinika B. – Alpharetta
Dayna K. – Broomfield
Jessica P. – Chesterfield
Desirae D. – Colorado Springs
Aleya M. – Cumming
Maddie R. – Four Points
Minal C. – Franklin
Chelsea A. – Gilbert – Val Vista
Arielle S. – Gilbert – Higley
Emily P. – Granite Bay
Bonnie K. – Lakeway
Brittany N. – Leawood
Heather C. – Littleton
Haley S. – O'Fallon
Morgan R. – Overland Park
Abigail M. – Ozark
Mattie C. – Rogers
Laurie A. – Roswell
Analiese J. – San Antonio – Dominion
Ellie R. – San Antonio – Stone Oak
Caitlin P. – Schaumburg
Danny V. – Southlake
Elvina D. – Springfield I
Morgan C. – Springfield II
Abbie D. – Springfield III
Christine B. – University City
Jahnvi S. – Willowbrook
Shea B. – The Woodlands