December 2017 Company-Wide Teacher of the Month
December has been filled with holidays and hardworking teachers! We had a wonderful and talented group of educators nominated for the Little Sunshine's Playhouse Company-Wide December Teacher of the Month, and the choice was a tough one. Thank you to the men and women who educate and love on our children every day.  The following teachers were nominated by their program directors and assistant directors:
Mariah Embry, Springfield I
Hannah Hall, Springfield II
Jessica Downing, Springfield III
Allyssa Luffman, Rogers
Shane Duvall, Scottsdale
Elese Edwards, Ozark
Alicia Picek, Leawood
Janessa Hubbard, Colorado Springs
Nabila Errachidi, University City
Karla Paez, Gilbert
Janet Lake, Lakeway
MacKenzie Floyd, Littleton
Jessica Bandyk, Willowbrook
Heather Garcia, The Woodlands
Ari Pemberton, Alpharetta
Melissa Hill, San Antonio
Madison Wells, Overland Park
Nancy Jiminez, Franklin
Taylor Sutter, Granite Bay
Congratulations to all of these nominees! We truly appreciate all you do for the children in your care and their families.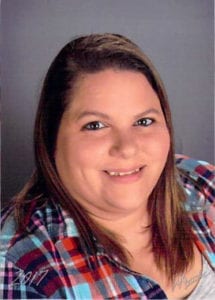 We are very excited to announce our December Company-Wide Teacher of the Month is Ms. Breann Gonzales from our Southlake, TX location.
Breann got started in the child care industry right after graduating high school. She had a cousin who directed a facility in Waco and needed a substitute teacher. Breann was a substitute for about six months and then became the toddler teacher.
"During the time I was a sub, I worked in every classroom from 18 months to school age," Breanne said.
Southlake Co-Director and Breann's supervisor Emy Cervantes said Breann recently accepted a promotion to lead teacher in the Land of Oz (early twos) classroom and is an influential leader among the other teachers.
"Aside from having near perfect attendance, Bre brings so much creativity to our team and is truly a teacher who many go to for ideas, like when she brought in shredded paper. She started a whole movement, and now shredded paper has become a staple in our classrooms as well as other schools!" Emy said. "Bre is always so positive and is always willing to step into any classroom to help. She is always looking for ways to improve and we can't say enough great things about her. We are so excited to be able to watch her journey at LSP from front row seats!"
Breann said the opportunities to grow within Little Sunshine's Playhouse is what she enjoys most about working for the company.
"In most places, once you become a teacher, the only other position to take is director/owner. I have always had a heart's desire to train others. This company allows me to grow into positions I didn't even dream of before."
Breann is the lead teacher in the young two-year-old classroom, and said she loves that age group.
"They are still at that age where they like to explore, so it is easy to introduce things and watch as their brains try to figure out what to do."
Breann's favorite curriculum project has been the shredded paper project when Breann brought shredded paper to the school, and the children pretended they were playing in snow.
"I was inspired to do this after remembering how much fun my niece had when she got into my mom's unplugged shredder and pulled out all the shredded paper."
Outside of work Breann is a worship leader in dance and also enjoys art journaling. Most people don't know Breann is actually from Waco, and although she is self-proclaimed "neat freak", Breann loves messy play activities with the children.