January National Teacher of the Month
The teachers at our preschool programs across the county are the game changers. They are dedicated, passionate and truly know how to engage each of their students every day.
The process of choosing just one teacher each month is tough, but we are pleased to announce that our 2019 January Teacher of the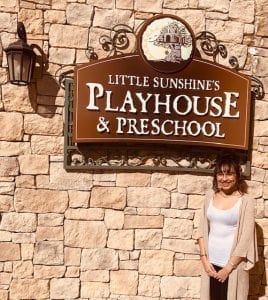 Month is Raquel Villa of Little Sunshine's Playhouse of Gilbert at Val Vista! Here is some fun information about her and what makes her such a standout!
What age group do you teach?
I get to teach infants! It's so much fun!
What is the name of your classroom?
Under The Sea
What do you love most about the age group you teach?
My absolute favorite part about teaching infants is seeing the amount of joy and excitement these little ones feel for the first time after accomplishing something new and reaching new milestones. Getting to witness their growth is so amazing! I consider myself luck to be a part of that experience!
What is your favorite curriculum project you've ever done in your classroom?
I've only been in my class for a few weeks, but I am so excited to start putting my creativity to work to teach these little ones new things!
What do you enjoy most about working for LSP?
I can honestly say the best part of working for LSP is the fact that no matter what kind of day I walk into work having, I am always greeted with warm smiles and positive words that keep a smile on my face until it's time to leave.
Who and/or what inspires you?
Children inspire me! I have a passion for early childhood education and I believe one can be an educator regardless of age as I've been taught so many new things by young children. I've been shown countless times how tuning into how a child's mind works can change the way you see things. I've been shown new ways to make connections, ways to show appreciation, ways to think about problems and their solutions, and most of all how to enjoy life to its fullest extent! Children have a purity to the way they think and act. It's beyond refreshing to think the way they do sometimes.
What do you enjoy doing outside of work?
I try to spend as much time in nature as possible. I love hiking, swimming, exploring, and learning all I can about myself through these experiences! I also spend a lot of time reading, listening to music, and making art as well.
Tell us one special fact about yourself that no one would expect.
When I was 5 I learned I was adopted. All my life I lived in a Mexican-American household and I always assumed I was partially Mexican. When I was 20 my best friend got me an ancestry kit and I learned that I'm mostly Native American!
We also want to say congratulations to all the nominees who are listed below. Thank you for all your hard work and dedication!
Emily Gallagher – Alpharetta
Darlene Jones – Springfield I
Stephen Hall – Springfield II
Gracie Simmonds – Springfield III
Victoria Daley – Colorado Springs
Afrika Avant – Franklin
Raquel Villa – Gilbert
Jonna Crowder – Granite Bay
Jasmine Carter – Lakeway
Shelby Robertsen – Leawood
Hannah Lombardi – Littleton
Jenna Waiz- Overland Park
Hannah Snyder – Ozark
Cassie Boosey – Rogers
Trisha Rocha- San Antonio – Stone Oak
Kita Allen – San Antonio – Dominion
Victoria Swisher – Southlake
Toto Saleh – Scottsdale
Kirsten Bort – The Woodlands
Maddie Klender – University City
Allison Stonis – Willowbrook