January 2023 National Teacher of the Month
The Teacher of the Month award is designed to recognize an employee that exemplifies our core values, which are compassion, humility, integrity, loyalty and discipline.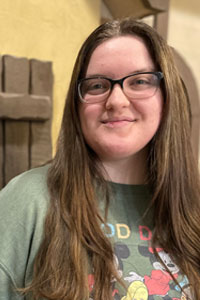 This month we are pleased to announce that our 2023 January National Teacher of the Month is Ms. Abbie of Little Sunshine's Playhouse and Preschool of Springfield at Cardinal.
In talking about how Ms. Abbie's exemplifies LSP's core values, Assistant Director, Ms. Anna said, "Miss Abbie has been with us for almost four years. She is our lead infant teacher and does such a wonderful job! Abbie is very patient with all her babies. She takes the time to understand each of their needs and makes adjustments and builds personal relationships with each baby. Miss Abbie also comes up with the best ideas when it comes to curriculum and activities. They are always developmentally appropriate and so much fun! Miss Abbie shows such patients and grace when it comes to her teaching strategies. We are so thankful and lucky to have Miss Abbie be on our team!"
Here is some fun information about her and what makes her such a standout!
What age group do you teach?
Infants
What is the name of your classroom?
Emerald City
What do you love most about the age group you teach?
My favorite thing about teaching infants is getting to watch them reach their first big milestones. It's so exciting seeing one of my babies say their first word or take their first steps!
What is your favorite curriculum project you've ever done in your classroom?
My favorite projects are the art crafts! We do a ton of handprint and footprint art, like footprint cars or handprint flowers. They always turn out so cute!
What do you enjoy most about working for LSP?
My favorite part of my job is the relationships that I've built. It's a great environment to be working in and you can always feel the appreciation from the families which is so rewarding!
What made you want to become an early childhood educator?
I have always loved kids and knew from an early age that I wanted to work with children. I love having the opportunity to help the babies develop and grow and help them reach their milestones!
Who and/or what inspires you?
My biggest inspiration is all the teachers that I've had in the past. I loved all of mine, and I would take such happiness in knowing that my kiddos feel the same way about me when they get older!
What do you enjoy doing outside of work?
I I love spending time with my daughter, reading, and painting.
Tell us one special fact about yourself that no one would expect.
My favorite type of music is rock. I grew up on it and it's still mainly what I listen to!
We also want to say congratulations to all the nominees who are listed below. Thank you for all your hard work and dedication!
Kaliah T. – Alpharetta
Alexcea K. – Broomfield
Jessica Q. – Chesterfield
Erin D. – Colorado Springs
Ana A. – Cumming
Sudarsana B. – Four Points
Nikkia G. – Franklin
Bridget N. – Gilbert – Val Vista
Arielle B. – Gilbert – Higley
Tasha F. – Granite Bay
Tammy T. – Lakeway
Jazmyn C. – Leawood
Tabitha B. – Littleton
Lourdes P. – O'Fallon
Tye T. – Overland Park
Storianna F. – Ozark
Anaya R. – Parker
Betty A. – Rogers
Monica G. – Roswell
Laketha L. – San Antonio – Dominion
Khushboo J. – San Antonio – Stone Oak
Soleman H. – Schaumburg
Natalya R. – Scottsdale
Jordan M. – Southlake
Joanna A. – Springfield I
Jamie W. – Springfield II
Araceli G. – The Woodlands
Hannah F. – University City
Natalie L. – Willowbrook