Bobby Bones and the Raging Kidiots visit Southlake!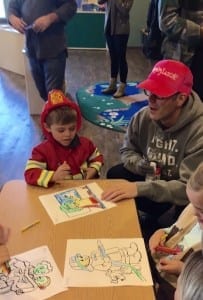 We were so excited to have nationally-syndicated radio host Bobby Bones visit our Little Sunshine's Playhouse in Southlake, Texas in November! Our curriculum theme, Giving Back, correlated perfectly with his band the Raging Idiots, cleverly nicknamed Raging Kidiots when performing children songs, who give all of their proceeds from shows to local animal shelters!
During the visit, Bobby and band mate, Eddie, were able to spend time in our older classrooms learning all about what the kiddos wanted to be when they grew up. Their aptly named title track, When I Grow Up, reminds children that they can be anything they want and the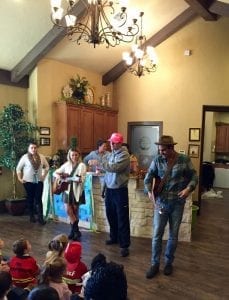 possibilities are endless. They joined the children in coloring doctors, firefighters, astronauts, policemen, zookeepers, veterinarians and countless other vocations. We even had a few kiddos dress up for the occasion, showing of their best firemen and doctor dress-up outfits! 
The visit wrapped up with Bobby and Eddie, joined by a special guitar guest, performing a few of their hit songs and covering a familiar Taylor Swift tune. The kiddos had the best time, and loved having someone famous come visit them at their school! 
We appreciate the time and effort they took out of their busy schedule to come hang out with us for the afternoon! Find the Raging Idiot children's album, Raging Kidiots online and in stores now! You can also listen to Bobby and Eddie every morning on iHeart and also on participating country radio stations around the country!