October National Teacher of the Month
"Teachers have 3 loves: love of learning, love of learners, and the love of bringing the first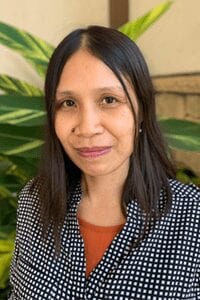 two loves together." – Scott Hayden
We are pleased to announce that our 2020 October National Teacher of the Month is Ms. Airene of Little Sunshine's Playhouse and Preschool of The Woodlands, TX.
Ms. Airene is one of our fantastic infant teachers. She is on the opening shift, and always arrives with a cheerful greeting and quick smile for everyone. Ms. Airene has a servant's heart and is always doing for others. For example, she cooked a huge meal for the staff for HER birthday even though she had the day off. She does a great job of teaching the babies and making sure all of their needs are met each day, in a loving manner. Ms. Airene is a team player who pitches in and helps any of her co-workers out when asked. We love Ms. Airene and just so excited for her!
Here is some fun information about her and what makes her such a standout!
What age group do you teach?
Infant
What is the name of your classroom?
Ashdown Forest
What do you love most about the age group you teach?
I really love the little ones. It is such a joy to watch them grow, learn and achieve their milestones. I love the hugs and smiles that they give me every day.
What is your favorite curriculum project you've ever done in your classroom?
My most recent favorite project was our pumpkin exploration project. First, they got to feel the pumpkin, and decorate it, then we opened it up and explored all of the things that were inside. It was fun to see which kiddos liked the texture and feel of the "guts" and which ones did not.
What do you enjoy most about working for LSP?
I love the environment that the school provides. The Reggio Emilia curriculum is fantastic. I love the flexibility it offers us with our lesson plans and the opportunities for the kids to explore and learn. I really love the awesome people that I work with. They are all so friendly and have made me feel right at home here at LSP The Woodlands.
Who and/or what inspires you?
I am inspired by my supervisors and the LSP Management team because of the structure that they provide for us. Monica S. and Phyllis K. inspire me every day and they have been great examples of what an LSP teacher should be. Peggy S., my co-teacher has also taught me a lot and makes everyday fun.
What do you enjoy doing outside of work?
When I am not at work I enjoy hanging out with friends, cooking, traveling as well as spending time with my daughter and family.
Tell us one special fact about yourself that no one would expect.
I love art! I speak three languages.
We also want to say congratulations to all the nominees who are listed below. Thank you for all your hard work and dedication!
Shelby W. – Alpharetta
Alley S. – Broomfield
Tiffani G. – Chesterfield
Arianna H. – Colorado Springs
Melissa N. – Cumming
Mayra C.  – Four Points
Shellie A. – Franklin
Ms. Susie R. – Gilbert – Val Vista
Theresa B. – Gilbert – Higley
Mia T. – Granite Bay
Dakota P. – Lakeway
Ashton S.  – Leawood
Cynthia H. – Littleton
Katie W. – O'Fallon
Tayyaba K. – Overland Park
Sydney H. – Ozark
Allison S. – Rogers
Laurie A. – Roswell
Analiese J. – San Antonio – Dominion
Rocio R. – San Antonio – Stone Oak
Daytona H. – Scottsdale
Katy E. – Southlake
Jordan D. – Springfield I
Bailie S. – Springfield II
Abbie D. – Springfield III
Brittani S. – University City
Colette L. – Willowbrook