November National Teacher of the Month
The Teacher of the Month award is designed to recognize an employee that exemplifies our core values, which are compassion,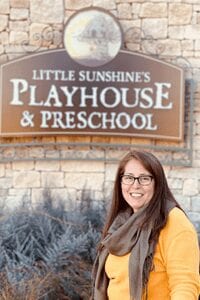 humility, integrity, loyalty and discipline. This month we are pleased to announce that our 2020 November National Teacher of the Month is Ms. Jeannette of Little Sunshine's Playhouse and Preschool of San Antonio at Dominion.
In talking about how Ms. Jeannette exemplifies LSP's core values, Program Director, Ms. Taylor said, "Ms. Jeannette has been a valued member of LSP Dominion for almost four years. She started in an infant classroom and worked her way up to Head Teacher. Her loyalty, dedication and work ethic is above and beyond the norm. She is appreciated deeply by all of our staff, families and students. Ms. Jeannette goes above and beyond her job description and excels at any task given! I couldn't ask for a more loyal human for this team. She has helped steer LSP Dominion more times than not when I travel, and she's always willing to do anything for Ms. Elia, our Assistant Program Director, and myself with a smile."
Here is some fun information about her and what makes her such a standout!
What age group do you teach?
Infants
What is the name of your classroom?
I started off as a teacher in Lilliput and now I am a Head Teacher. I have the pleasure of working with all age groups.
What do you love most about the age group you teach?
The thing I love most about working with little ones is the ability to take part in helping them reach their milestones. As Head Teacher, I love having the opportunity to work alongside teachers and providing them with the support to excel in the classroom.
What is your favorite curriculum project you've ever done in your classroom?
My favorite curriculum activities involve creating sensory bins/bottles/bags. I love providing children opportunities to explore using their senses. I also enjoy collaborating with the teachers to create Reggio inspired monthly required projects.
What do you enjoy most about working for LSP?
I enjoy working for LSP because I have gained the pleasure of building loving relationships with families and staff members. My leadership team is supportive and always encouraging. I am proud to be part of such a great team.
What made you want to become an early childhood educator?
I became an early childhood educator because I love children. I wanted to do something that would keep me active and always learning.
Who and/or what inspires you?
God inspires me to be the best person I can be and to share my blessings with those around me in my life.
What do you enjoy doing outside of work?
When I'm not at work I enjoy cooking and crafting.
Tell us one special fact about yourself that no one would expect.
I love to listen to music from the 80's but my all-time favorite musician is Prince.
We also want to say congratulations to all the nominees who are listed below. Thank you for all your hard work and dedication!
Brittany M. – Alpharetta
Diana M. – Broomfield
Claudette F. – Chesterfield
Karen G. – Colorado Springs
Dena N. – Cumming
Rachel P. – Four Points
Melissa W. – Franklin
Rebecca V. – Gilbert – Val Vista
Haven F. – Gilbert – Higley
Alyssa S. – Granite Bay
Danielle M. – Lakeway
Gillian R. – Leawood
Alyssa B. – Littleton
Sarah W. – O'Fallon
Maria G. – Overland Park
Caridad R. – Ozark
Vicki X. – Rogers
Deina H. – Roswell
Nupur B. – San Antonio – Stone Oak
Brittany F. – Scottsdale
Victoria S. – Southlake
Katie H. – Springfield I
Joni R. – Springfield II
Abigail W. – Springfield III
Abigail J. – University City
Jaclyn G. – The Woodlands
Alba G. – Willowbrook