January 2018 LSP National Teacher of the Month
We are overjoyed as ever for all of the hardworking men and women who educate and love on our students every day! The process of choosing just one passionate teacher each month is tough, but we are lucky to have so many to choose from for recognition as our January teacher of the month. The following teachers were nominated by their program directors and assistant directors for this achievement:
Heather Cotter, Springfield I
Brittany Holloway, Springfield II
Blaine Ebeling, Springfield III
Sandy Zamudio, Rogers
Grace Darling, Scottsdale
Stephanie Barrios, Ozark
Katie Kelly, Leawood
Dory DeShiro, Colorado Springs
Bridgette Edwards, University City
Leslie Bauer, Southlake
Jyl Bizzardi, Gilbert
Mandy McCowen, Lakeway
Charissa Petree, Littleton
Cassidy Ahlert, Willowbrook
Dianna Skip, Alpharetta
Karena Therrian, San Antonio
Mallory McCormick, Overland Park
Kristen Bradshaw, Franklin
Congratulations to all of these nominees! We are very thankful for all you do for the children in your care every day.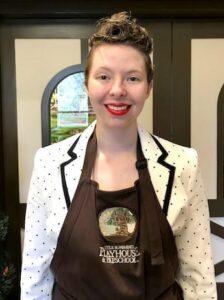 Our 2018 January LSP National Teacher of the Month is Ms. Alyssa McEntee from our Granite Bay, California, location! Ms. Alyssa is the lead teacher in the Land of Oz, the twos classroom.
Alyssa first entered the child care industry in 2015 while simultaneously taking early childhood education classes. Alyssa said the whimsy of fairytales and the extraordinary architecture of the school initially drew her attention to Little Sunshine's Playhouse when the Granite Bay location opened in November 2017. She soon discovered it wasn't just the school's design, but it was her colleagues' devotion to Little Sunshine's Playhouse
"I am in awe of the dedication and love that each of my peers and administrators demonstrate on a daily basis to their fellow team members, their families, and their students," Alyssa said. "This team of Little Sunshine's is what inspires me to grow and develop as a professional in our field."
Granite Bay Program, Director Allison Peterson, said she receives positive feedback from parents of Alyssa's students who say they trust the process and the education their children are receiving because they trust Alyssa.
"It has been a lot of work to create structure and routine in this classroom, but Alyssa has done it with such grace," Allison said.
Alyssa said she enjoys teaching the two-year-old students in her classroom because of their pivotal age as they begin their mastery of self-regulation and their exploration into the realm of peer interactions.
"What I have enjoyed most about this classroom is facilitating discovery through music," Alyssa said. "With a background in storytime and stage performances, I revel in the opportunities to present children with lyrical or musical prompts and watch them do what they will with them!"
Aside from being a teacher at Little Sunshine's Playhouse, Alyssa enjoys making memories with her family and watching her daughter grow into toddler-hood. An interesting fact, Alyssa has been involved with mixed martial arts since she was 13.
"Alyssa is the true meaning of a team player. She is dependable, nurturing and never gives up," Allison said. "We know Alyssa strives to be the very best teacher to her students, and we are so lucky to have her as part of our LSP family!"