January Company-Wide Teacher of the Month
Another busy month has come and gone and we are overjoyed as ever for all of the hardworking men and women who educate and love on our kiddos every day! The process of choosing just one passionate teacher each month is tough, but we are lucky to have so many to choose from! The following teachers were nominated by their Program Directors and Assistant Directors for this achievement:
Brittany Delius, Ozark
Brandi Jones, Chestnut
Megan Brown, Colorado Springs
Emily Hawley, Southlake
Stephanie Crone, Cardinal
Gabriela Cendejas, Rogers
Ashley Palicki, Gilbert
Lilly Tritch, Scottsdale
Sarah Shrader, Leawood
Joya Rhodes, University City
Linsey Fox, Lakeway
Kiara Williams, Claremont
Megan Fuentes, Littleton
Brianne Ward, Alpharetta
Denis Burgeos, The Woodlands
Gina Ramos, San Antonio
Congratulations to all of these nominees! We are very thankful for all you do for the children in your care every day!
Our January 2017 Company-Wide Teacher of the Month is Ms. Genna Pavone from Willowbrook, Illinois! Ms. Genna is the lead teacher for the Enchanted Forest 3's room and is also one of the Head Teachers at Willowbrook.
Genna's supervisors, Lynn Shepka and Pam Fegan, had the following to say about her:
"Genna has been with us since we opened our doors and is someone who initially stood out to us during our 1st Job Fair.  She is our Lead Teacher for our Enchanted Forest 3's room and also one of our Head Teachers! She is an asset to her classroom and ou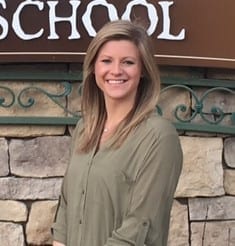 r center! Her smile can light up the room. Genna is a very positive, upbeat, happy person and never complains! She completes her lesson plans on time and helps approve other classrooms lessons and newsletters. Genna plans engaging and fun activities for her kiddos and she makes sure to challenge them daily.  Genna is extremely flexible with her schedule and willingness to help wherever needed.  She is constantly exceeding our expectations with her willingness to be a team player, her loyalty, and overall attitude. We receive positive feedback from families and both Pam and I are constantly impressed with her work ethic and dedication to Little Sunshine's!  We are so appreciative to have Ms. Genna on our team at LSP Willowbrook and are thrilled to nominate her for employee of the month not only for the center, but company wide! Ms. Genna is a very valuable employee and we cannot say enough good things about her! We cannot wait to watch her continue to grow with our school and company."
One of Genna's co-workers had this to say:
"Not only does she do an amazing job with her 3 year olds, she also rocks it in the management department. She is extremely flexible and willing to take on whatever task is thrown her way. Not to mention, she is helping me out personally in a major way with her willingness to alternate the closing shift."
A few of the parents at Willowbrook had the following to say about Genna:
"She always makes sure to keep us updated and is very patient and calm when dealing with our child"
"Her smile lights up the room and my child loves her"
These two quotes are from two of the children that Genna works with:
"I got to put a pie in her face and she didn't get mad at me"
"She is nice and "I love her"
Genna started in child care at an early age by babysitting for her neighbor's children. "It was very rewarding and I felt a great sense of accomplishment, which guided me to where I am now!" She attended college at Illinois State University where she received a Bachelor of Science degree. She majored in Family Consumer Science with a focus on Human Development and Family Resources and a minor in Children Studies.
Genna enjoys working for Little Sunshine's Playhouse. She loves how each school stays connected with each other, along with corporate. "The support and encouragement are endless! It's so gratifying being a member of the LSP family."
Even though Genna is a Head Teacher, she is also the Lead Teacher for Enchanted Forest, the 3-year-old preschool room. "Their energy and imagination are contagious! I also love how enthusiastic this age is about learning!"
Genna really enjoys taking the curriculum outside and her favorite project so far has been planting cilantro and basil with the children. "They loved getting messy of course, and were amazed when they saw the plants begin to sprout!"
Outside of work, Genna enjoys traveling, attending comedy shows, watching movies and reading next to her Himalayan salt lamp and essential oil diffuser.
Something that people may not know about Genna is that she was very involved in sports growing up with volleyball being her favorite. She was named student-athlete and received an award as one of the best high school volleyball players in the area.