February 2023 National Teacher of the Month
The Teacher of the Month award is designed to recognize an employee that exemplifies our core values, which are compassion, humility, integrity, loyalty, and discipline. This month we are pleased to announce that our 2023 February National Teacher of the Month is Ms. Anusha of Little Sunshine's Playhouse and Preschool of Cumming, GA.
In talking about how Ms. Anusha exemplifies LSP's core values, Program Director, Ms. Beth said, "Ms. Anusha's class is always "bursting with curriculum" and evidence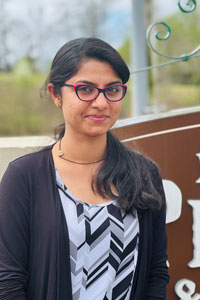 of learning. Parents and students alike gush all the time about how fun and organized a full class of 32 pre-K children is. Anusha's classroom runs smoothly and seamlessly each day and her children have grown so much academically and socially. They are so ready for kindergarten! Ms. Anusha has an amazing work ethic and is always reliable and ready. Anusha always goes the extra mile! We appreciate you so much, Ms. Anusha!"
Here is some fun information about her and what makes her such a standout!
What age group do you teach?
Pre-Kindergarten
What is the name of your classroom?
Neverland
What do you love most about the age group you teach?
My top teaching moment is seeing the children find their "Aha Moment".
What is your favorite curriculum project you've ever done in your classroom?
One of my favorite curriculum themes recently is 'Discovering the Arctic'. I had a wonderful experience with my little friends making the Igloo using cardboard, Styrofoam bowls, and fluffy artificial snow.
What do you enjoy most about working for LSP?
The Reggio Emilia philosophy and my wonderful team who always supports me!
What made you want to become an early childhood educator?
I always love being with kids and watching the 'Twinkle' in their eyes when they understand new things and see how proud they look. Being an educator is one of the best and most rewarding jobs!
Who and/or what inspires you?
My inspiration is my mom because I feel like moms are the universal teachers who we learn and inspire from.
What do you enjoy doing outside of work?
Interior Designing, Yoga, and my favorite is walking with my lovely child.
Tell us one special fact about yourself that no one would expect.
I love dancing! I am a classical dancer and have been practicing traditional Indian dance for over 15 years.
We also want to say congratulations to all the nominees who are listed below. Thank you for all your hard work and dedication!
Shawna W. – Alpharetta
Erin S. – Broomfield
Amanda B. – Chesterfield
Kaley E. – Colorado Springs
Tara P. – Four Points
Ja'Andra Sanders – Franklin
Betsy J. – Gilbert – Val Vista
Avianna G. – Gilbert – Higley
Paris P. – Granite Bay
Liz B. – Lakeway
Sierra V. – Leawood
Christina E. – Littleton
Mariah C. – O'Fallon
Katrina B. – Overland Park
Shelby H. – Ozark
Wilma C. – Parker
Mary E. – Rogers
Madison S. – Roswell
Ruby S. – San Antonio – Dominion
Chabreal S. – San Antonio – Stone Oak
Megan L. – Schaumburg
Melanie C. – Scottsdale
Kelsey P. – Southlake
Brianna M. – Springfield I
Alexis W. – Springfield II
Kiana G. – Springfield III
Daina B. – The Woodlands
Nikki C. – University City
Isabel B. – Willowbrook