December 2022 National Teacher of the Month
The Teacher of the Month award is designed to recognize an employee that exemplifies our core values, which are compassion, humility, integrity, loyalty and discipline. This month we are pleased to announce that our 2022 December National Teacher of the Month is Ms. Resy of Little Sunshine's Playhouse and Preschool of Schaumburg.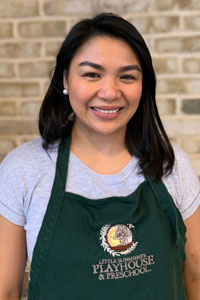 In talking about how Ms. Resy exemplifies LSP's core values, Program Director, Ms. Colleen said, "Ms. Resy, has been an amazing addition to this school. As a parent, she always cares for my child and greets her with a smile. As a director, she is always very respectful to her coworkers and is super kind to the children. We are so lucky to have her part of our team!"
Here is some fun information about her and what makes her such a standout!
What age group do you teach?
Two's
What is the name of your classroom?
Where The Wild Things Are
What do you love most about the age group you teach?
That I can communicate with them verbally and interact with them. I love hearing their amazing thoughts and seeing the big feelings they have.
What is your favorite curriculum project you've ever done in your classroom?
My favorite curriculum project is when we are painting with ice and loose parts to make a snowman.
What do you enjoy most about working for LSP?
The Reggio Emilia approach, the students, parents, and my amazing team of powerful women working together!
What made you want to become an early childhood educator?
My passion for educating and caring for children
Who and/or what inspires you?
The teachers at LSP. They help me continue to strive and improve.
What do you enjoy doing outside of work?
I love riding my bike with my son, and bowling. My daughter, and I have weekly Subway dates! I also love hiking at the local forest preserve.
Tell us one special fact about yourself that no one would expect.
I have lived in 4 different countries! Canada, Philippines, China/Hong Kong, and of course, the U.S.
We also want to say congratulations to all the nominees who are listed below. Thank you for all your hard work and dedication!
Jurnae R. – Alpharetta
Blanca P. – Broomfield
Katherine C.  – Chesterfield
Aerionna W. – Colorado Springs
Marisol L. – Cumming
Carolina Q. – Four Points
Mandy J. – Franklin
Samantha B. – Gilbert – Higley
Alexis O. – Gilbert – Val Vista
Cathleen M. – Granite Bay
Alexa I. – Lakeway
Miranda M. – Leawood
Monique M. – Littleton
Julia W. – O'Fallon
Sydney T. – Overland Park
Amanda T. – Ozark
Kara K. – Parker
Brenna S. – Rogers
Rachel F.  – Roswell
Paola C. – San Antonio – Dominion
Shaheen F. – San Antonio – Stone Oak
Lisa S. – Southlake
Payton C. – Springfield I
Hailea H. – Springfield II
Brianna P. – Springfield III
Lena K. – The Woodlands
Lexi F. – University City
Maureen C. – Willowbrook