April 2023 National Teacher of the Month
The Teacher of the Month award is designed to recognize an employee that exemplifies our core values, which are compassion, humility, integrity, loyalty, and discipline. This month we are pleased to announce that our 2023 April National Teacher of the Month is Ms. Aleya of Little Sunshine's Playhouse and Preschool of Cumming, GA.
In talking about how Ms. Aleya exemplifies LSP's core values, Program Director, Ms. Beth said, "Ms. Aleya is an "OG" at our castle and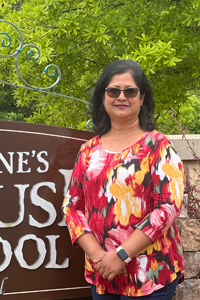 continues to amaze our families and staff! I see her as a mentor in the areas of Reggio curriculum, patience, and compassion. Her most recent "wow" moment was during our rainforest theme. She taught a process project where the children learned the "lion sleeps tonight" song with a dance. They created artwork to go with it and discussed how each of them is fierce and mighty, but also gentle and majestic, like lions. It was so fun to watch, and the children were so proud! These activities, special moments, and life lessons constantly happen in our Arendelle class because of Ms. Aleya. Thank you, Ms. Aleya!"
What age group do you teach?
Preschool
What is the name of your classroom?
Arendelle
What do you love most about the age group you teach?
I love seeing them grow with energy, enthusiasm, and inquisitiveness and learning something new every day. I feel proud to be able to continue their learning and graceful growth.
What is your favorite curriculum project you've ever done in your classroom?
I love all the projects and crafts I do in my classroom, but if I need to pick my favorite projects then those would be:
Making an Anemometer with disposable plastic cups to measure the wind speed.
'Under the Sea' with paper plates, construction paper, and goldfish
Making butterflies with coffee filters, toilet paper rolls, and construction paper
Creating a tornado in a bowl
Bucket filling
Bulletin boards:
"In the jungle, the mighty jungle, the lions sleep tonight. "
"What will you grow today?"
"Be yourself "
What do you enjoy most about working for LSP?
LSP treats its employees as a family.
What made you want to become an early childhood educator?
A mother is living in my heart! I love to watch my students grow.
Who and/or what inspires you?
My late father. He was a loving and caring parent and an amazing teacher! He taught me how to live a dignified life with moral values, which I try to transfer to my kid while raising her and to my students while taking care of them in the classroom.
What do you enjoy doing outside of work?
I love reading, whether it is a book, journal, or newspaper, doesn't matter. Besides that, I love traveling, nature, taking care of my family, and spending time with them.
Tell us one special fact about yourself that no one would expect.
I'm a writer. For me, writing is therapeutic, a stress reliever. The first earning of my life was from a newspaper for writing a short story, when I was 18 years old.
We also want to say congratulations to all the nominees who are listed below. Thank you for all your hard work and dedication!
Binitha T.  - Alpharetta
Shelia G.  – Broomfield
Madison B. – Chesterfield
Desirae D. . – Colorado Springs
Nour El Souki Y. – Four Points
Arielle M.. - Franklin
Caitlyn S. – Gilbert – Val Vista
Abby M. – Gilbert – Higley
Jenna W. - Granite Bay
Janie S. – Lakeway
Angel P. – Leawood
Ashley M. - Littleton
Sarah W. – O'Fallon
Chelsea F. – Overland Park
Lauryn L. - Ozark
Emma R. – Parker
LeeAnn K. – Rogers
Tayler B. – Roswell
Jordi T. - San Antonio – Dominion
Nicole R. - San Antonio – Stone Oak
Samantha I. – Schaumburg
Clara G. – Scottsdale
Jayden C. - Southlake
Soria R. - Springfield I
Aidan E. - Springfield II
Emma D. – Springfield III
Brittany M. – The Woodlands
Nabila E. – University City
Adam W. - Willowbrook