April 2022 National Teacher of the Month
The Teacher of the Month award is designed to recognize an employee that exemplifies our core values, which are compassion, humility, integrity, loyalty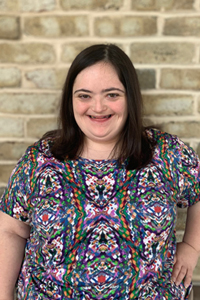 and discipline. This month we are pleased to announce that our 2022 April National Teacher of the Month is Ms. Allie of Little Sunshine's Playhouse and Preschool of Schaumburg.
In talking about how Ms. Allie exemplifies LSP's core values, Assistant Director, Ms. Lizzi said, "Ms. Allie has been such an amazing part of our Schaumburg team. She has such a great attitude ALWAYS! She's such a hard worker and goes above and beyond to help her Pre-k students. She has built amazing relationships with her students. I have never seen a teacher get so many hugs from so many children; she really does take the time to get to know her students on a personal level. She loves them deeply and it truly shows within her interactions. Ms. Allie has done an amazing job as this is her first year ever in child care. She also helps a lot within the Down Syndrome community as she has been a part of it her entire life. She truly is an inspiration and an amazing person inside and out!"
Here is some fun information about her and what makes her such a standout!
What age group do you teach?
Pre-kindergarten
What is the name of your classroom?
Neverland
What do you love most about the age group you teach?
I love that they want to learn. I really like that they love me as a teacher and respect me. They give me lots of hugs, which is my favorite.
What is your favorite curriculum project you've ever done in your classroom?
My favorite activity would be doing any type of art project with them. I really like interacting with them during their STEM activities.
What do you enjoy most about working for LSP?
That fact that LSP treats me like a family member. I don't really feel like I am at work, because it is a very fun-loving environment.
What made you want to become an early childhood educator?
My mom was always making stuff at home with me, and we always did art projects together for fun. My Aunt Tracie and Uncle David along with my director of a play that I am in gave me the inspiration to follow in their footsteps. They work with older children, but I wanted to work and educate younger children.
Who and/or what inspires you?
Who inspires me the most would be my parents, my Nonie, my cousins Melissa and Rebecca, and my Auntie Melanie. The people who are a part of the Foundation of UPS for Downs also inspire me.
What do you enjoy doing outside of work?
In my free time, I love doing art. I also like dancing and singing. I really enjoy musical theater. I am also a part of The Next Chapter Book Club.
Tell us one special fact about yourself that no one would expect.
I love to travel. I have been to Paris, Germany, Italy & the Bahamas!
We also want to say congratulations to all the nominees who are listed below. Thank you for all your hard work and dedication!
Mercies H. – Alpharetta
Irene B. – Broomfield
Mackenzie P. – Chesterfield
Ajah Z. – Colorado Springs
Marisol L.  – Cumming
Marissa G. – Four Points
Tessa B. – Franklin
Savannah O. – Gilbert – Val Vista
Alyssa S. – Gilbert – Higley
Esmeralda E. – Granite Bay
Courtney W. – Lakeway
Briana D.  – Leawood
Megan A. – Littleton
Kaitlyn M. – O'Fallon
Shayla A. – Overland Park
Morgan N. – Ozark
Hannah F. – Rogers
Olivia S. – Roswell
Rianna C. – San Antonio – Dominion
Chabreal S. – San Antonio – Stone Oak
Zoey T. – Scottsdale
Kristen S. – Southlake
Ashley G. – Springfield I
Nicole S. – Springfield II
Tyeler G. – Springfield III
Amy K. – University City
Asees A. – Willowbrook
Kendra C. – The Woodlands