Powell-Abraham Family Testimonial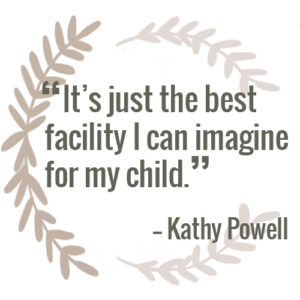 Kathy Powell and her husband, Brad Abraham, both work full-time and have one daughter, Laney, who began as an infant at Little Sunshine's Playhouse and Preschool in Springfield, Missouri. Once they toured the facilities, Kathy and Brad knew Little Sunshine's was a perfect fit for their family.
"As soon as we walked in, my husband and I said, 'This is perfect,'" Kathy said. "It was just a warm, inviting, comfortable atmosphere, and I think that's what sort of sealed the deal for us."
Kathy knows Laney is learning by the things her daughter says and does at home.
"It's just incredible. She's way more advanced than we ever thought she would be at this age," Kathy said.
As much as she would like to be at home with Laney, Kathy said she could not give her daughter what she is receiving at Little Sunshine's. Kathy is thankful to have the wonderful teachers and everyone at preschool to help Laney learn and grow, and she loves that Laney enjoys going to school.
The family's favorite feature, of course, is the camera feature. Kathy said she loves having the option to check in on her child because she can feel more relaxed while she is at work knowing Laney is safe and doing well.
Another feature that helped Kathy and Brad choose Little Sunshine's is the double secured entry. Parents are required to enter a unique code at two checkpoints – once at the front door and again inside the lobby – before they can get to the classrooms where their children are. Visitors without a unique code are not allowed inside the building without granted access and are not allowed beyond the lobby without an employee escort.
"It's two checkpoints you have to go through before you can get your child, so I absolutely love that as a parent," Kathy said. "Every parent would love to have that extra security for their child. Little Sunshine's gives us peace-of-mind."
With Laney at preschool five days per week, Kathy said if she and her husband weren't able to be her role models during the day while they are at work, then she wants the people who work at Little Sunshine's to be.
"We are very fortunate to have everyone here; everyone who works here is so wonderful," Kathy said. "We can tell by how happy she is when she is dropped off in the morning and when I pick her up in the afternoon."
Kathy said there are numerous times when she has to ask Laney repeatedly to leave, and she's not ready to go yet.
"It's been so beneficial for us in so many ways. It's just the best facility I can imagine for my child," Kathy said. "She's safe, she's happy, and she's well taken care of. Those are the main things you want for your child whenever you're at work during the day, and you can't be there for them."
Every person Kathy has encountered at Little Sunshine's, Kathy said, has been responsible and caring, and it's like Laney's second family. Kathy appreciates that Laney is having fun while learning.
Discover the magic at Little Sunshine's Playhouse & Preschool! Find a location near you, and call to schedule your tour today.