January Reading List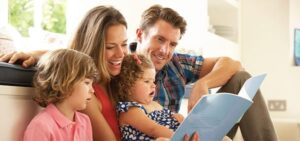 Parent involvement in a child's education is incredibly critical to optimal development and helping a child reach his/her full potential. Supporting evidence is overwhelming. Research shows parent involvement not only leads to higher academic achievement, greater cognitive competence, and better problem-solving skills (Melhuish, Sylva, Sammons, et al., 2001), but also extends beyond educational achievement. Children develop greater self-control, improved mental health, show advanced social and emotional development, become more resilient to stress and have more positive relationships with their peers when their parents are involved in their children's education (Desforges & Abouchaar, 2003).
At Little Sunshine's Playhouse, we recognize these tremendous benefits to children, and we strongly encourage and even expect parents to be involved in their child's preschool education. One of the ways parents can be involved in their child's development is by reading to them aloud.
"Study after study shows that early reading with children helps them learn to speak, interact, bond with parents and read early themselves, and reading with kids who already know how to read helps them feel close to caretakers, understand the world around them and be empathetic citizens of the world," said Amy Joyce in an article for the Washington Post.
Our Reggio Emilia-inspired curriculum, Creatively Shine™ (read more here), includes a suggested reading list that supports the monthly curriculum theme. We ensure reading selections are age-appropriate, and we encourage families to ask their children questions before, during and after the book to help them connect what they heard or read. Asking children to play or act out the plot will bring the books to life and help make reading more fun.
We have compiled a list of suggested books to read this month that go along with January's curriculum theme, Music and Movement. These books and others can often be found on Amazon:
Animal Boogie | Author: Debbie Harter
Ballet Stories | Author: David L. Angus
Barnyard Dance | Author: Sandra Boynton
Carnival of the Animals | Author: Barrie Carson Turner
Dancing Feet | Author: Lindsey Craig
Hands are Not for Hitting | Author: Martine Agassi
I Love You! A Bushel & A Peck | Author: Frank Loesser
Jump Up! | Author: Dan Zanes
M is for Melody | Author: Kathy-jo Wargin
Music, Music for Everyone | Author: Vera B. William
My Favorite Things | Author: Richard Rodgers
Punk Farm | Author: Jarrett Krosoczka
Story of the Orchestra | Author: Robert Levine
The Story of the Incredible Orchestra | Author: Bruce Koscielniak
What Makes Music? | Author: Betty Ann Schwartz