January 2022 National Teacher of the Month
The Teacher of the Month award is designed to recognize an employee that exemplifies our core values, which are compassion,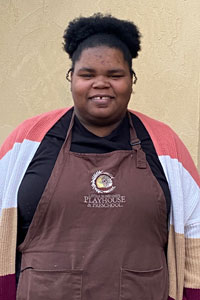 humility, integrity, loyalty and discipline. This month we are pleased to announce that our 2022 January National Teacher of the Month is Ms. Tatianna of Little Sunshine's Playhouse and Preschool of Springfield at Cardinal.
In talking about how Ms. Tatianna exemplifies LSP's core values, Assistant Program Director, Ms. Anna said, "Tatianna is our Pre-K teacher. She has been with our company for almost two years. She has made an investment in her job here as a teacher, friend, mentor, and a leader in her classroom. Tatianna shows compassion, kindness, silliness, respect, and involvement when caring for her Pre-K students. She has been someone who you can get to know on a personal level. Someone you can go to if you need help or just some advice. Tatianna works so hard at her job, and she does it effortlessly. Tatianna does a wonderful job being a leader and a wonderful person! We are very lucky to have her on our team."
Here is some fun information about her and what makes her such a standout!
What age group do you teach?
Pre-Kindergarten
What is the name of your classroom?
Pre-K
What do you love most about the age group you teach?
Being able to communicate with them and get them ready for the future.
What is your favorite curriculum project you've ever done in your classroom?
I would have to say when the kids made homemade pizzas and was able to express how they look with the toppings of the pizzas.
What do you enjoy most about working for LSP?
The family environment and helpful staff.
What made you want to become an early childhood educator?
I wanted to impact others' lives.
Who and/or what inspires you?
My older sister. She works really hard, and always encourages me to work hard for what I want in life.
What do you enjoy doing outside of work?
Spending time with family and friends, being outdoors.
Tell us one special fact about yourself that no one would expect.
I'm an open book, so everyone knows everything about me.
We also want to say congratulations to all the nominees who are listed below. Thank you for all your hard work and dedication!
Marita R. – Alpharetta
Denise S. – Broomfield
Alice M. – Chesterfield
Dory D. – Colorado Springs
Bryan H. – Cumming
Bryanna C. – Four Points
Khushbu P. – Franklin
Caitlyn S. – Gilbert – Val Vista
Lexi S. – Gilbert – Higley
Nicole M. – Granite Bay
Alex F. – Lakeway
Gillian R. – Leawood
Cara S. – Littleton
Katie C. – O'Fallon
Madison F. – Overland Park
Sarah M. – Ozark
Mary E. – Rogers
Laura L. – Roswell
Jennifer N. – San Antonio – Dominion
Mona M. – San Antonio – Stone Oak
Shamiaya W. – Schaumburg
Sondra Z. – Scottsdale
Bliss S. – Southlake
Jenna S. – Springfield I
Veronica K. – Springfield II
Ms. Nabila – University City
Ashley F. – Willowbrook
Sadie H. – The Woodlands