Best Family Testimonial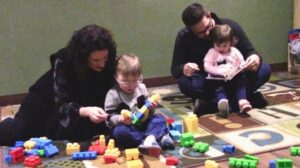 Lauren and Zach Best from Nixa, MO, have two children and are expecting their third child in April. Calan (three) and Emery (one) both attend Little Sunshine's Playhouse & Preschool in Springfield, Missouri, at the Cardinal location, and Lauren and Zach said they already have their third child on the list.
"I feel like Little Sunshine's always had a good reputation here in Springfield which is part of the reason why we chose to have our kids come here when we were both working," Lauren said.
Little Sunshine's Playhouse's positive reputation is what initially brought the Best Family through the castle doors. One of the things Lauren said she liked more than anything was the preschool and educational factor Little Sunshine's Preschool implemented rather than simply providing childcare.
"We wanted our kids to be in an environment where they were learning and growing every day, [and] that it's not just a place where you drop off your kids and pick them up," Lauren said.
When Lauren and Zach came to Little Sunshine's Playhouse for the tour and the teachers found out Callan had Down Syndrome, Lauren said the teachers acted like his condition was not an obstacle and that he was going to get the one-on-one attention he needed regardless of his diagnosis. Little Sunshine's Playhouse coordinates and works well with flexible schedules to allow Callan's therapists to see him during the day while at preschool, allowing the teachers to watch the therapy sessions to better understand how to work with Callan.
"The environment has been very welcoming for that kind of development," Lauren said, "and we see that at home when we're with him that what he's learning here is only helping him develop, which we know has a lot to do with his teachers here."
Zach said Little Sunshine's Playhouse has helped Callan's advancements and enabled him to stay amongst other students his age so he can continue to progress in an inclusive environment with age-like peers.
Lauren said the teachers and leadership at Little Sunshine's Playhouse have a plan and schedule they adhere to, and they communicate that well to the parents typically through email and LuvNotes, which is an internal system used by Little Sunshine's Playhouse to update parents about their child's day. She is pleased with the curriculum and the incorporation of art and music and the experiences her children have that parents can't help but love to bring them to Little Sunshine's Playhouse.
"It makes you feel very, I would just say, satisfied in knowing that you picked the right place when you know that they're dedicated," Lauren said. "They really do feel like family."
Lauren said she feels comforted and supported when everyone knows her children's names and knows her family, and, as a parent, it gives her peace of mind when she knows her children are at Little Sunshine's Playhouse throughout the day.
Discover the magic at Little Sunshine's Playhouse & Preschool! Find a location near you, and call to schedule your tour today.