August is Family Fun Month!
August is Family Fun Month, so it's the perfect time to spend extra time with your family before the craziness of Fall is upon us! We've compiled a list of 5 fun (& free!) things for you to do as a family throughout the month!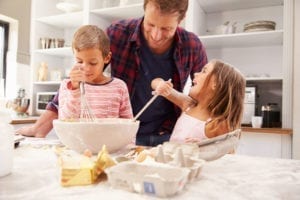 Cooking Class
Create your very own cooking class right inside your own kitchen! Put together an easy, fun recipe that the whole family can participate in! Through step by step instructions, your kiddos will be whipping up incredible meals all on their own!

Hiking
Take the fun outdoors, by going on a family hike. If you're fortunate enough to live near a national park, entrance is free August 15-16 & 22-23 for National Park Week and on August 25 for National Park Service Birthday!

Grocery Store Scavenger Hunt
Needing to make a grocrey store run and not looking forward to it? Make it a family fun event, by creating a scavenger hunt that your kiddos can partcipate in, too! Who will be the first to find all of their items!?

Visit the Farmer's Market
Your local farmer's market is a great place to show your children that the yummy veggies, fruits & meats at their kitchen table could come straight from your town's backyard. Visit the market to learn all about your local farmers and how hard they work to feed America!

Build a Fort
Pile all of the blankets, sheets and pillows from everyone's rooms and build a fort right in your living room. Watch a movie, read a book, eat some popcorn and enjoy lots of snuggles as a family!