Little Sunshine's Playhouse & Preschool – August National Teacher of the Month
We are honored to work alongside such hardworking men and women who educate and love on our students day-in and day-out! The process of choosing just one passionate teacher each month is tough, but we are lucky to have so many to choose from for recognition as our August teacher of the month. The following teachers were nominated by their program directors and assistant directors for this achievement:
Shanna Bishop – Alpharetta
Erin Manasco – Springfield I
Kristen Marshall – Springfield II
Wendy Mangum – Springfield III
Wendy Flores – Colorado Springs
Anna Pope – Franklin
Katie Cox – Gilbert
Tracy Willey – Granite Bay
Patty Blankinship – Lakeway
Regina Brager – Leawood
Cherise Centi – Littleton
Ana Chavez – Overland Park
Mackenzie Vestring – Ozark
Karla Diaz – Rogers
Desiree Gomez – San Antonio
Tamara Rivera – Scottsdale
Miki McGee – Southlake
Nicole Flores – The Woodlands
Amanda Crawford  – University City
Kelli mcGlothlin – Willowbrook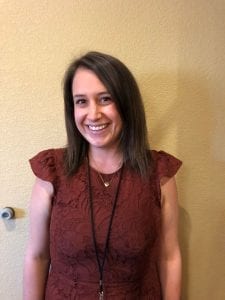 Congratulations to all of these nominees! We are very thankful for all you do for the children in your care every day.
Our 2018 August LSP National Teacher of the Month is Miss Cherise Centi from our Littleton, Colorado location! Miss Cherise is the lead teacher in Arendelle, the preschool classroom.
When asked what Cherise loves most about the age group that she teaches she answered, "I love watching the immense language development in this age. It is miraculous watching children go from just beginning to assign words to certain situations and form sentences to using well thought out abstract sentences to interact with their peers, perform healthy social functions and most of all express themselves and how they feel and interpret all of their interactions with life. There is nothing as rewarding as hearing a student who only a few months ago could only resort to crying as a form of unhappy self-expression say to his/her friend "I don't like that, can I please have my stuffy back? For me this is just as gratifying as seeing an increase in letter recognition or interest in counting because it signifies to me the growth of these beautiful toddlers into admirable children."
Cherise says she has learned so much about herself working at Little Sunshine's Playhouse and Preschool. She loves her classroom and the kiddos that help make up the positive and energy-filled environment! "Not only is my classroom, but the entire center here at LSP set up for success. The children are provided the most enriching, healthy, beneficial learning environment to enhance and promote optimal growth and interactions with their classrooms and friends. The management at LSP is one of my favorite things about my school. I feel so supported and assisted at my school. There is never any disconnect or animosity between any of the management or staff and this allows me to maximize my motivation to work beyond my full potential and put 110% into my kiddos and my performance," Cherise said.
Inspired by her Mother who currently teaches 7th grade English Cherise has observed her Mother raise and teach her 2 younger siblings and has gained so much from that. Cherise says, "Today in my actions regularly I see bits and pieces of my mother poking through in my own educational approach and I could not be more proud during these moments."
Here's what Littleton Program Director, Lynda Barraza had to say about Miss Cherise, "Cherise is one of our lead preschool teachers working with our 3-4-year-olds. She started in March of this year and has really turned the classroom around. She has wonderful classroom management skills and her lesson plans are so engaging and developmentally appropriate. She has great relationships with all of her students and their parents. We are so lucky to have her on our team!"
Outside of work, Cherise fills her free time (when her 2-year old son is not brightening my day) with the mountains and music. She loves hiking in the summer and snowboarding in the winter in the Rocky Mountains locally. Cherise also loves to play her mandolin, ukulele and sing to make her feel at peace after a long day!
A fun little fact about Miss Cherise, she took classical piano lessons and performed in recitals for 13 years!
Congratulations Miss Cherise and "Thank You" for all you invest into Little Sunshine's Playhouse and Preschool families, you are much appreciated!